History
Quality Is Our Legacy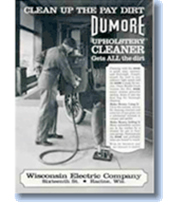 In 1913, L.H. Hamilton and Chester H. Beach started a new company, Wisconsin Electric Company, to produce labor-saving, motor-driven electrical devices, built with better designs and better components than the competition.
Very quickly the company began to thrive, the name was changed to Dumore Corporation, and the Dumore team, dedicated to building quality products and standing behind them, grew. Dumore high-quality electric motors became part of better industrial tools.

Birth of the Tool Post Grinder
In 1920, Dumore engineers needed a low cost tool to grind bearing seats on armature and spindle shafts. Forced to improvise, they mounted a hand grinder on a compound lathe – and the "tool post grinder" was born. The grinding job could now be done on an existing machine using a tool that was a fraction of the cost of a standard grinder – a tradition that continues today!

The Legacy Continues
Over 100 years later Dumore Tools, a Dumore company, continues the legacy of turning creative ideas into high-quality products. Our founding principles still drive Dumore today.

Dedicated to the highest quality products and standing behind them

Anticipate and respond to customer needs to exceed their expectations

Invest in a dedicated and capable team, equipped with the latest technology,
committed to seeking innovative solutions


Dumore remains "the choice of professional craftsmen" for high quality, accurate, reliable drilling and grinding tools, including precision automatic feed drills, sensitive bench top drill presses, tool post grinders, hand grinders and flexible shaft grinders – proudly made in the USA!